Hunting At The Harwinton Rod & Gun Club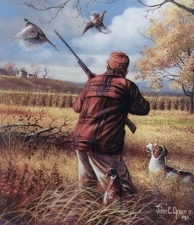 Can't wait for the hunting season to roll around? Neither can the members of Harwinton Rod & Gun Club. We offer a great season of pheasant hunting on our hundreds of acres of both privately owned and leased land. HRG stocks quality pheasants on all its properties and institutes a managed hunting program to allow enjoyable hunting to all its members. Members are,also, invited to bring their faithful canine hunting partners.
As well as pheasant hunting, Harwinton Rod & Gun Club, also, allows the hunting of a variety of small and large game on designated club properties that include Deer and Turkey.
In addition to supporting local organizations dedicated environmental conservation, the Harwinton Rod & Gun Club is very active in protecting its natural surroundings. HRG is dedicated to improving the habitat of our privately owned properties. Our land management programs provide adequate cover and food plots to help support a wide variety of both game and non-game species.
Tuning your hunting skills before the season will never be a problem at the Harwinton Rod & Gun Club. Whether you hunt upland birds, deer, turkey, or any other game, we provide you with the means to get you ready for your season.
Trap shooting on Fridays and Sunday will help you hone in your aim with your shotgun. Member sponsored field trials will help get your dog ready on real game. Our indoor/outdoor archery ranges and rifle range will allow you to get both your bow and gun ready for the upcoming deer and turkey seasons.
If you have questions regarding hunting at the Harwinton Rod & Gun Club, please feel free to email us at hunting@harwintonrodandgun.com.