Dog Training At The Harwinton Rod & Gun Club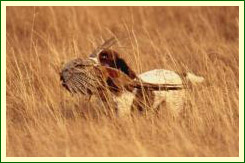 If you have been interested in training your hunting dog, but didn't know where to start, here's your opportunity. The Harwinton Rod & Gun Club has established a formal dog training area on our Colebrook property. This area will be open all year round.
Formal training sessions with experienced dog trainers will be scheduled to help you maximize your dog's performance in the field. You may also take your dog to the field to do individual training.
If you know what you'd like to work on that's great. If not, take advantage of the dog trainers to offer help with things like… A better retrieve, a stronger flush, a young dog's intro to birds, or perhaps work on getting steady on the flush.
When the training is done, enter your dog in one of the formal field training events offered by HRG.
To compliment the dog training committee, we have established a Gun Team to establish a formal training environment. This team allows the trainers to concentrate on the dog and not the bird.
For more information on dog training at HRG, please contact the dog training chairman at dog-training@harwintonrodandgun.com.