Fishing At The Harwinton Rod & Gun Club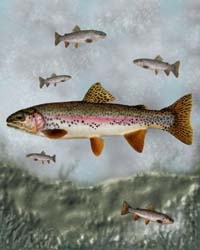 If fishing is your passion, you have come to the right place. The Harwinton Rod & Gun Club offers a private, two-and-half-acre fishing pond on its premises to its members.
Want to involve your children? Bring them along to enjoy our children's fishing pond.
Opening day at HRG starts off with our traditional fisherman's breakfast followed by a children's fishing derby. After which, we are sure that you will enjoy the entire season of great fishing on our stocked rainbow, brook, and brown trout.
Don't think you'll find the big ones here? Guess again. It isn't uncommon for our members to bring up that giant that keeps them bragging the whole season.
The Harwinton Rod & Gun Club is environmentally consious and active in the execution of pond management programs. Our fish comitte is constantly involved in improving the pond and the grounds around it to maximize your fishing experience now and for many years to come.
If you have questions regarding fishing at our club, please email us at fishing@harwintonrodandgun.com.